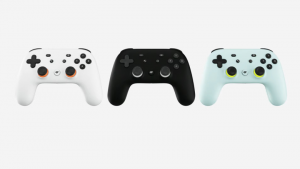 The online gaming market was one of the few in the digital technologies sector where Google had not made any serious moves but this is set to change in 2019 as the online giant announced a new video game streaming service that has the Greek name Stadia!
The announcement of the new platform was made during the Google Developers Conference (GDC) with Google, however, leaving some gaps in the content of the service. Google Stadia will allow users to play their favorite games through a wide range of devices (smartphones, tablets, PCs and TVs).
The user will not have to install something on his computer as everything will be done through the browser and initially, according to the first indications, the service will only be supported by Chrome, that is, Google's browser. Of course, we can also see an app for smartphones and tablets but that was something that Google did not mention.
As well as the issue of billing and the exact date of marketing. Google has argued that the Stadia will be available in 2019 in the United States, Canada, Britain and most of Europe, as typically noted in the relevant post on the blog of the American giant.
For the games, a dedicated controller, which was the only accessory that was announced and which looks pretty much like those found on Sony (PlayStation) and Microsoft (Xbox) consoles, may also be necessary.
In the presentation of the service, Google put a lot of emphasis on the infrastructure it will use to provide Stadia, which leverages Google's data centers around the world.
In terms of games, there was no announcement of partnerships. But the reference to Ubisoft's Assasinn's Creed: Odyssey announcement suggests that Google has already closed several deals with major gaming companies.
Google also emphasized that its goal is to offer games with a 4K resolution and with the capability of 60 frames per second (fps), supporting both HDR and surround sound.
The video game community has welcomed Google's announcement, but some have expressed caution until the company knows how much Stadia and its controller will cost, what games can be played, how easy and costly the development of new games for Stadia and others.
Analysts, however, have estimated that if cloud gaming is gaining ground thanks to Google's new initiative, traditional gaming consoles such as Microsoft, Sony and Nintendo will be threatened by competition.
Video games are the best-selling category in the Google Online Store with Android apps. In 2018, sales of $21.5 billion worth of games, according to the Sensor Tower research firm, were sold against $33 billion worth of games sold through their respective Apple online store.
At the same time, gaming is the top trio of popularity on YouTube, but it rivals hard with Amazon's Twitch on what is the most popular means of streaming video games.
(Συνολικές Επισκέψεις: / Total Visits: 26)

(Σημερινές Επισκέψεις: / Today's Visits: 1)

Σας αρέσει το άρθρο; / Do you like this post?