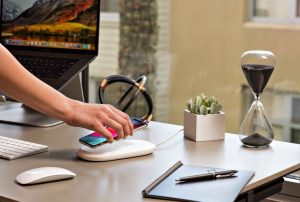 Some small dramas are played on a daily basis in our lives. "You have 30 seconds before your cellphone battery runs out" and "Cellphone memory is full" are two phrases, two updates that easily cause panic in the age of nomophobia. Two different problems, however, all show that they have finally found a common solution that will solve the problem of millions of users.
Until today, there wasn't a charger that would charge the battery at the same time that it would create a backup for the photo file, all without the need for a cable. The "SanDisk iXpand Wireless Charger", however, can charge both Apple and Android phones, while keeping a record of photos, videos, and contacts without risking losing important information.
With 128 or 256 GB of storage, this charger automatically saves photos and videos to the highest quality while charging smartphones at a fast pace. It even has the ability to host many different profiles, one for each family member. Finally, you can get it from the internet for the price of 100.99 Euro (128 GB) and 146.99 Euro (256 GB) without calculating shipping costs.
Σᾶς ἀρέσει τὸ ἂρθρο; / Do you like this post?
(Συνολικές Επισκέψεις: / Total Visits: 11)

(Σημερινές Επισκέψεις: / Today's Visits: 1)