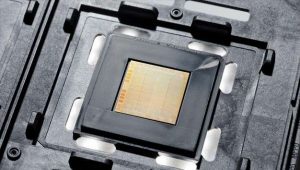 IBM announced on Monday a new processor chip for "data centers", which, as it says, will be able to lift three times the workload of its predecessor.
According to Reuters, the company said that the "Power10" will be manufactured by Samsung and is intended for use by businesses in "data centers". It will use Samsung's 7-nanometer manufacturing process, which is similar to the technology used by AMD (Advanced Micro Devices) to produce its chips from Taiwan Semiconductor Manufacturing.
Both IBM and AMD use "external" factories to compete with Intel, which dominates the field of central processor chips for "data centers" and is one of the few "players" in the field who design and manufacture their own chips.
Intel recently announced that its next generation of manufacturing technology is facing delays; something that is expected to give its competitors a chance to gain market share.
IBM has focused on high-performance computer systems, with three of the world's top ten supercomputers using its chips.
The company reported on Monday that the "Power10" was designed to be faster at tasks involving artificial intelligence than its predecessor, capturing speeds up to twenty times faster in such tasks than the previous generation of chips.
Source:

---
(Συνολικές Επισκέψεις: / Total Visits: 12)

(Σημερινές Επισκέψεις: / Today's Visits: 1)

Σας αρέσει το άρθρο; / Do you like this post?