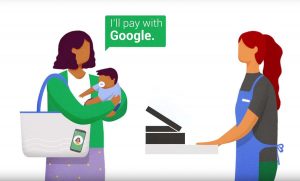 "Viva Wallet" customers in Greece and 17 other countries can now enjoy the benefits of "Google Pay", the most popular mobile payment method for "Android" device users.
In more detail, on 27th of October the service became available for "Viva Wallet" customers in Belgium, Czech Republic, Denmark, Finland, France, Germany, Italy, Poland, Spain, Sweden, United Kingdom, while as of today the service is now also available in Greece, Portugal, Romania, Austria, Bulgaria, Ireland, Netherlands.
"Google Pay" is a fast, secure way to make payments on websites, apps and stores, using the payment method that the user has stored in his Google account. User data is protected with multiple levels of security while the process of storing "loyalty" cards, gift cards, offers, etc. is very easy.
For users of "Android" devices in the added countries, the process of activating the new service is as follows: Through the administrative environment of "Viva Wallet" the user chooses his "Viva Wallet" Mastercard to be added to "Google Pay". Once he has added his card, he can start using his phone to pay anywhere, such as in shops or on public transport, without having to use his wallet or card by entering his PIN at a terminal.
Also, if the user wants to spend more money than the default contactless transaction limit, he can do so easily by unlocking his phone before payment. To make a payment through "Google Pay", the application "Viva Wallet" does not need to be open and does not even require an internet connection.
By linking a "Viva Wallet" Mastercard to "Google Pay", an additional level of security is added through Mastercard's "Tokenization" technology. Mastercard's platform protects cardholder information by replacing account numbers with a unique alternate card number, or "token".
The service is available in the "Viva Wallet" app (v1.15.0) for "Android".
Source:

---
(Συνολικές Επισκέψεις: / Total Visits: 15)

(Σημερινές Επισκέψεις: / Today's Visits: 1)

Σας αρέσει το άρθρο; / Do you like this post?