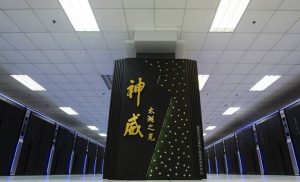 Two Chinese supercomputers, "Sunway TaihuLight" with 93 petaflops and "Tianhe-2" with 33.9 petaflops, are the two most powerful supercomputers in the world, according to the new Top 500 ranking published today at a computer conference in Frankfurt, Germany.
"Tianhe-2" has been the world's most powerful computer for three consecutive years, until "TaihuLight" passed it by far in June 2016. No1 is located at China's National Computer Center.
Surprisingly, after 1996, the US did not have a supercomputer even in the third place where the Swiss "Piz Daint", who now has 19.6 petaflops after his upgrades, climbed.
The American "Titan" (a Cray XK7), located at the US Department of Energy's National Laboratory of the US Department of Energy, fell to fourth place with 17.6 petaflops (it has the same power since 2012).
However, the US has the most (five) systems in the top ten of the most powerful supercomputers, and most computer systems (169) in the Top 500, compared with China's 160. Japan follows with 33, Germany with 28, France with 17 and Britain with 17.
Intel is still the major processor provider for the most powerful supercomputers (at 464 out of 500), followed by IBM that has provided processors in 21 systems and AMD in six.
Japan "builds" a supercomputer, the "AI Bridging Cloud", which is forecasted to overtake China's current No.1, reaching the impressive 130 petaflops.
Source: ΑΝΑ-ΜΝΑ
Source: http://www.capital.gr
---
(Συνολικές Επισκέψεις: / Total Visits: 10)

(Σημερινές Επισκέψεις: / Today's Visits: 1)

Σας αρέσει το άρθρο; / Do you like this post?